JWAS Editor's Choice Awards 52(1)
Perspectives on the mangrove conundrum, land use, and benefits of yield intensification in farmed shrimp production: A review
Claude E. Boyd, Robert P. Davis, Aaron A. McNevin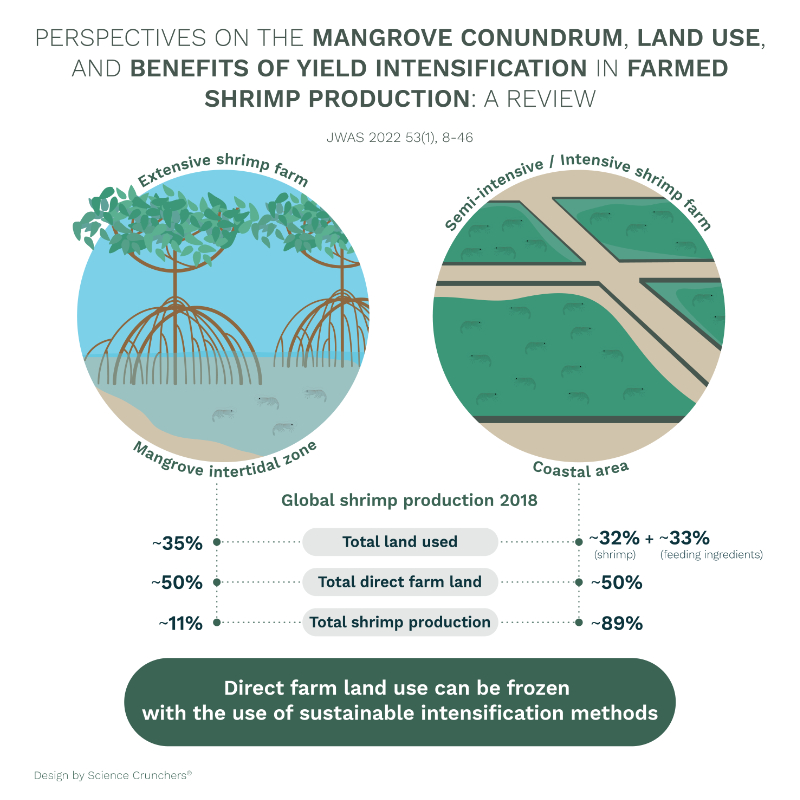 Globally, shrimp farms occupied an estimated 3.490 million hectares (Mha) of land and operated 2.426 Mha of production ponds in 2018. Extensive shrimp farms used 1.804 Mha of farm area (1.377 Mha of production ponds), but produced 11.4% of global shrimp production. An estimated 1.718 Mha of land was required to produce ingredients for feeds used in semi-intensive and intensive shrimp farming, bringing total land use to 5.160 Mha. Extensive production is located in the intertidal zone and much of this land formerly was or still is in mangrove areas. Expansion of shrimp farms into mangrove areas has slowed. Mangrove areas are inferior sites for shrimp farms, and governments have imposed stricter regulations to protect mangroves. Shrimp farming in mangrove areas is unnecessary to supply the global shrimp demand. Scenarios for increasing global shrimp production without further increase in shrimp farm area are presented. But, if the demand for shrimp continues to increase, it will be impossible to freeze the total land footprint for farmed shrimp, because the land needed for feed presently is roughly equal to the direct land use for shrimp farms. Direct land use for farms can be frozen through greater production pond yields.
---
Controlled spawning and rearing of the sea cucumber, Parastichopus tremulus
Schagerström, E., Christophersen, G., Sunde, J., Bakke, S., Matusse, N. R., Dupont, S., & Sundell, K. S.
The majority of sea cucumber fisheries are overexploited and first steps to aquaculture novel species in Europe, where fishing pressure is increasing, are rare. Spawning and larval rearing protocols are essential to the sustainable use of sea cucumber species worldwide. Schagerström et al. successfully apply established methods to Parastichopus tremulus, a species of great interest in northern Europe. Successful larval development after spawning indicates that relatively standard culture protocols with adapted temperature regimes can be applied to this species. Fine tuning of the protocols is suggested including feed and temperature optimisation, plus improved handling.
---
Factors influencing Chinese consumer attitudes on the safety of aquatic products
Dai, Y., Yuan, Y.-M., Yuan, Y., Zhou, Z., & Zhang, H.
Consumer attitudes and consumption patterns are changing rapidly across the world's largest seafood market, mainland China. Dai et al. show that preference for food safety is replacing necessity amongst consumers across China. Consideration for the health implications for the aged and the very young are important in this shift in product preference. Meeting current and future consumer demands in China requires a focal shift towards product safety, potentially at the cost of overall production volume.
---
Measurement and analysis of technological progress bias in China's mariculture industry
Sun, Y., & Ji, J.
Ji et al. in their recent study apply a data envelopment analysis to calculate input biased technological progress as an index in China's mariculture industry. Early industry development depended heavily on factor input and expansion of scale, classic for extensive development. The authors argue, however, that continued growth requires technological progress and corrected pricing of labor and ecosystem services (in the form of sites). Input of technological progress remains too low and must be addressed. The authors argue that technological innovation must be encouraged, and resource dependence including environmental inputs must be reduced through government intervention. Workers need to be appropriately remunerated and product pricing along with costs for mariculture area access need to be defined and set accordingly to allow healthy and sustainable industry development.
---
About World Aquaculture Society
Upcoming Events
Magazine Articles
2023

2022

2021

2020

2019

2018

2017

2016
Regardless of the aquatic species an aquaculture venture produces, there are significant risks to su...

Many challenges come with land-based finfish aquaculture. This study looks at water quality changes ...

Feeding an expected global population of 9 billion by 2050 is a daunting challenge that is engaging ...