JWAS Editor's Choice Awards 53(6)
In vitro screening and in vivo evaluation of antiparasitic phytochemicals against Cryptocaryon irritans in pompano, Trachinotus ovatus.
Mao, W.-W., Zhao, Z.-C., Li, G.-H., Guo, W.-L., Ding, Z.-H., Wang, S.-F., Sun, Y., Cao, Z.-J., Li, J.-L., & Zhou, Y.-C.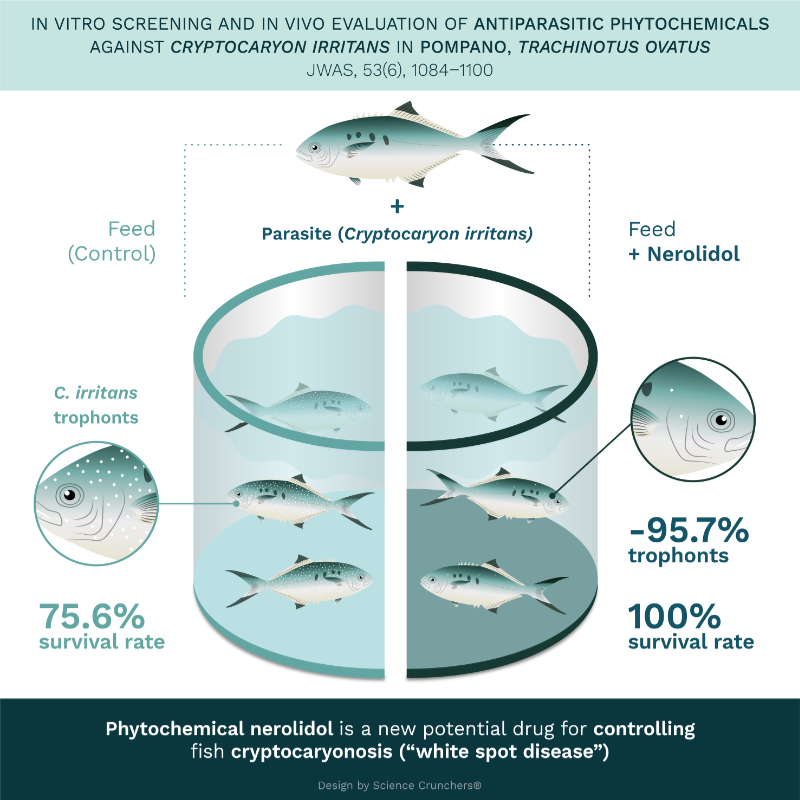 Cryptocaryon irritans is an ectoparasite that causes cryptocaryonosis, sometimes referred to as "white spot disease" in marine fish. This parasite can impact a broad range of fish species and is particularly damaging to pompano, causing dramatic losses in areas such as China, where they are cultured. Although chemical treatments such as formalin, copper sulfate, and others have been used to reduce disease, their use is not desirable due to possible environmental impact. In an attempt to evaluate more natural treatments, the authors investigated the effects of 14 phytochemicals to determine their potential to control Cryptocaryon irritans. The most promising of these was nerolidol, a compound naturally found in herbal essential oils. Nerolidol was found to have strong antiparasitic activity on C. irritans both in vitro and in vivo. In fact, it was found that a diet supplemented with 2.3 ml/kg nerolidol resulted in a 95.7% decrease in the number of trophonts on pompano gills when compared to control groups. Given such results, the authors suggest that nerolidol may represent a potential new drug to control cryptocaryonosis.
---
Bacterial exudates as growth-promoting agents for the cultivation of commercially relevant marine microalgal strains.
Sauvage, J., Wikfors, G. H., Dixon, M. S., Kapareiko, D., Sabbe, K., Li, X., & Joyce, A.
This is an interesting study that suggests that microalgae species may be deprived of important growth-promoting compounds that would be present under natural conditions as part of a complex relationship between microalgae and co-occurring bacterial species. The authors addressed this by comparing the direct and indirect effects of 10 bacterial strains or their exudates on the growth of five strains of marine microalgae commonly used as feed in marine hatcheries. It was demonstrated that superior growth could be achieved when bacterial exudates were present and that the response was dependent upon microalgae strains and appropriate pairing with bacterial species or their exudates. Bacillus, Mesorhizobium, and Phaeobacter strain exudates were the most effective at improving microalgal growth with a 22%–69% increase. The practical application of this was tested through scaled-up culture trials, where enrichment with bacterial exudates was shown to be suitable for the production of microalgae used to feed hatchery-reared bay scallops. This study is unique in that bacterial exudates were used as growth promoters for microalgae production and is the first study to identify specific pairings that can improve culture media formulations for microalgae strains.
---
Evaluation of two spawning induction methods and effect of stocking density and microalgal diet composition on larval growth and survival of Pacific clam, Asaphis violascens (Forsskål, 1775).
Bolasina, S. N.
This study aimed to establish spawning, rearing, and larviculture methods for Pacific clams, Asaphis violascens, a benthic bivalve found in the Indo-Pacific region. This is an important species, and the authors suggest that small-scale aquaculture of Pacific clams could provide supplemental income and food security for rural households in this region. Therefore, different spawning induction methods, larval rearing densities, and microalgae diets were evaluated. It was found that emersion spawning was preferred over thermal shock and that a rearing density of 10 larvae/mL had significantly higher survival compared to 20 larvae/mL. No growth or survival differences were found when fed three different microalgae diets. Overall, this work establishes the methodology for larval production from spawning to settlement stages for A. violascens and will be important for the successful culture of this species.
---
Enhancement of Vibrio parahaemolyticus resistance and immune responses in Exopalaemon carinicauda by synergistic bacteriostasis of Crataegus pinnatifida Bunge and oxytetracycline.
Cao, Q., Zhang, C., Guo, Q., Ren, C., Li, Y., & Adil Farooq, M.
The need to minimize antibiotic use in aquaculture is clear and this study investigated multiple treatments using natural plant extracts (NPEs). It was found that combining antibiotics and NPEs that show high anti-Vibrio parahaemolyticus activities could minimize mortality and upregulate digestive enzymes, toll receptors, and innate immune parameters such as lysozyme. The most promising treatment for shrimp was found to be a 1/4 minimum inhibitory concentration (MIC) of oxytetracycline +1/4 MIC of hawthorn extract. This improved survival to 53.3 ± 4.7% (as compared to 23.3 ± 2.3% in control groups) when Exopalaemon carinicauda were challenged with V. parahaemolyticus. This suggests that NPEs can provide potential supplementary therapies that could minimize antibiotic use in aquaculture.
---
About World Aquaculture Society
Upcoming Events
Magazine Articles
2023

2022

2021

2020

2019

2018

2017

2016
Regardless of the aquatic species an aquaculture venture produces, there are significant risks to su...

Many challenges come with land-based finfish aquaculture. This study looks at water quality changes ...

Feeding an expected global population of 9 billion by 2050 is a daunting challenge that is engaging ...