JWAS Editor's Choice Awards 52(2)
Technological progress in the US catfish industry
Shraddha Hegde, Ganesh Kumar, Carole Engle, Terry Hanson, Luke A. Roy, Morgan Cheatham, Jimmy Avery, Suja Aarattuthodiyil, Jonathan van Senten, Jeff Johnson, David Wise, Sunni Dahl, Larry Dorman, Mark Peterman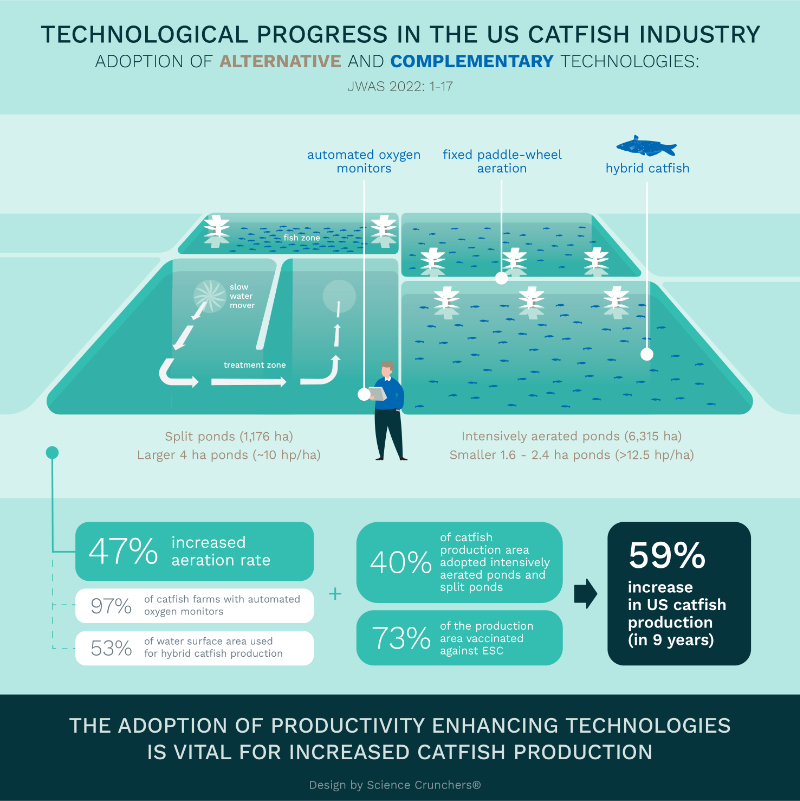 The US catfish industry has undergone significant technological advancements in an attempt to achieve cost efficiencies. This study monitored the progress of the adoption of alternative and complementary technologies in the US catfish industry. A 2019–2020 multi-state in-person survey in Alabama, Arkansas, and Mississippi (n = 68), revealed increased adoption of intensively aerated ponds (6,315 ha) and split ponds (1,176 ha). The adoption of alternative, more intensive, production practices has been accompanied by increased adoption of complementary technologies of fixed-paddlewheel aeration, automated oxygen monitors, and hybrid catfish. As a result, the average aeration rate in the tristate region has increased to 7.8 kW/ha with 97% of catfish farms adopting automated oxygen monitors. About 53% of the water surface area in the tristate region was used for hybrid catfish production. Fingerling producers have also adopted a feed-based, oral vaccine against Enteric Septicemia of Catfish, with 83% of the fingerling farms and 73% of the fingerling production area vaccinated against ESC in 2020. Increased adoption of productivity-enhancing technologies in the US catfish industry explains the 59% increase in foodfish productivity from 2010 to 2019. Monitoring the progress of adoption of productivity-enhancing technologies will guide researchers and Extension personnel involved in the refinement and dissemination of these technologies.
---
Effects of histidine on growth performance of North American Atlantic salmon.
Peterson, B. C., Burr, G. S., & Gaylord, G. T.
Establishing amino acid requirements for Atlantic salmon based on performance and feed efficiency is important as ever greater levels of alternative diet ingredients are applied in commercial settings. Histidine has been secondary to other amino acids in previous research. In graded controlled feeding experiments Peterson et al. were able to establish a requirement of 0.9% histidine in diets to ensure optimal growth. Previous study results indicating tendency towards cataract formation below 1.4% histidine were not confirmed.
---
Temperature and salinity adaptability of the coral reef topshell Tectus pyramis.
Ou, Z., Liu, W., & He, M.
The previously common coral reef topshell Tectus pyramis is a highly valued fishery species now the focus of breeding and restocking efforts in Asia. Fundamental understanding of optimal physicochemical parameters and adaptability is essential to ensuring successful release in restocking efforts. Graded Temperature and salinity exposure experiments over a period of 9 days revealed a significant reduction in tolerance and adaptive capacity amongst smaller animals, most likely to be included in restocking releases. Optima of 30 degrees Celsius and 33 ‰ salinity were identified based on mortality, respiration and nitrogen excretion.
---
Trophic interactions and metal transfer in marine ecosystems driven by the Peruvian scallop Argopecten purpuratus aquaculture.
Loaiza, I., De Boeck, G., Alcazar, J., Campos, D., Cárdenas-Alayza, S., Ganoza, M., Gómez-Sanchez, M., Miglio, M., & De Troch, M.
High-value scallop aquaculture is established along the highly productive Peruvian coast and is considered a pivotal industry, but also a potential source of metal bioaccumulation in higher tropic levels, including fisheries targeted species. Loaiza et al. reveal stable isotope enrichment at five sites along the coast and show that scallops are key within the ecosystem as a food source, and have a major role in metal transfer, particularly Arsenic to higher trophic levels.
---
About World Aquaculture Society
Upcoming Events
Magazine Articles
2022

2021

2020

2019

2018

2017

2016